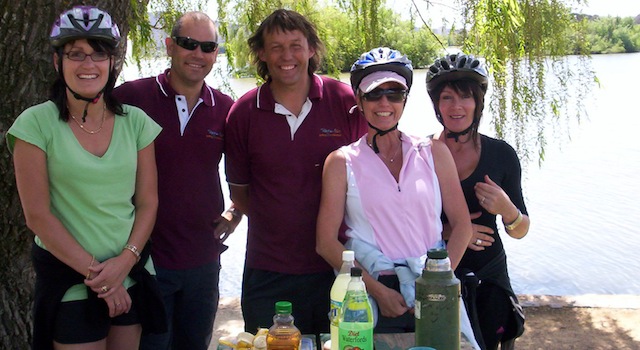 Seven Reasons Why You Should Ride Into
Cycle Canberra

At The ANU For Your Cycling Needs and Advice.
1
Cycle canberra staff love cycling, and can't wait to share their passion and knowledge with you so you can get out riding too.
When you visit or call Cycle Canberra you're guaranteed the satisfaction of having your queries answered and your worries alleviated. Our excellent staff will help you choose the best equipment for your needs, team them with the appropriate accessories and give you some practical advice.
2
Second hand and ex hire bikes.
You will find a good range of ex hire or traded second hand bikes. All are serviced by our mechanics prior to sale and come with a one month warranty for your peace of mind.
3
Receive quality same day servicing and repairs from Cycle Canberra.
Drop your bicycle in on your way to work and have our mechanics service or repair it and have it ready for you to pick up on the way home. Cycle Canberra aim to support you in your riding for the long term, so our service doesn't stop when you walk out the door with your new "bike". Come back for regular servicing, repair damage or perhaps some accessories to enhance your enjoyment. It's so important to keep your Bicycle in the best condition. Cycle Canberra make sure you receive expert ongoing care.
4
Don't feel pressured to make a quick decision.
You can test ride any of our bicycles around the courtyard at any time. If you're seriously considering a particular style of bicycle and want to take it on a longer ride, you can hire it from Cycle Canberra before you buy and really get a feel for it. You're making a big investment and you want to get it right. This is an ideal way to enjoy obligation free testing of your bicycle, so you can have confidence in your decision. If you do end up purchasing, we'll take a weekend's worth of hire off the purchase price.
5
Quality brands.
We specialise in bicycles under $1000 and are stockists of the well known Fuji, Breezer, XDS, Commencal and SE bicycles. If we haven't got your model or size on the floor we can generally have it in stock and assembled within 48 hours.
6
In the extremely unlikely event Cycle Canberra don't have the equipment or item you're seeking, just speak to our friendly staff and we'll order it in for you.
If you can't decide which quality item to choose, ask a member of staff for advice. If you need ongoing support and knowledge, call our store and speak to an expert, bring your bicycle back in for repair or a once over.
7
Our staff are the life blood of our operation, trained to give you personalised service so you leave Cycle Canberra fully satisfied with your purchase and ready to get out on the road.
All keen cyclists themselves, their knowledge and passion shines through in every exchange. They won't talk down to you, or make a new starter feel inadequate, because their aim is to share their love of Cycling. PLUS receive the first service FREE on your NEW bike purchase. Worth $60: you won't pay a cent.
PLUS receive the first service FREE on your NEW bike purchase. Worth $60: you won't pay a cent.